Dr. Laurie Swanson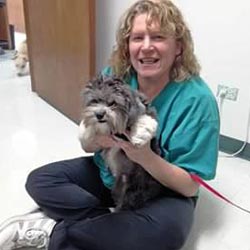 Timeline:
Michigan State University 1982
Dolton Animal Hospital 1983–1993
Waukegan Pet Clinic 1993–Present
Professional Associations:
Member of AVMA, ISVMA, CVMA, and VIN
Assists with Spay and Stay, feral cat trap neuter release program.
ALTRUSA professional group for education
Owner of cats Cleopatra, Sulimon, Mr Spankleman, Mango, and William
---
STAFF
Angie C.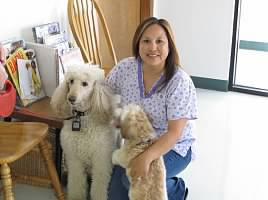 Receptionist
Angie loves soccer, swimming, and the Beatles.
---
Mayra R.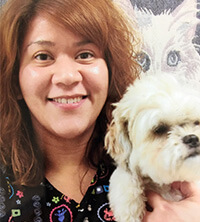 Certified Veterinary Technician
Mayra R. Certified Veterinary Technician. Mom to Camilla the Shihtzu/ Bichon, and Henle and Harry both cats. Mayra enjoys spending time with her fur babies and her family.
---
Our morale booster committee!
Calvin, the brown tabby boy. Loves petting (and food)
Nicholas (Nicky), the black and white boy. Loves lap sitting. Not so much being asked to get OFF!
Pumpkin, orange tabby cat. New guard for the printer.
Camilla, Mayra's dog. She likes EVERYBODY!
Maddie, the huge tortie female. More shy to strangers, but loves to be brushed and combed (and food).
In Memorium
With great sadness we say goodbye to TC (TT, Baby T, Teecer). He guarded the printer well for 11 years. Never shy about reaching out to be petted. The clinic is quieter without his (extremely) loud purr. 2000 to 12-19-2014.